Summer School 'Impacts of Cultural Events on Small and Medium-size Art-oriented Towns'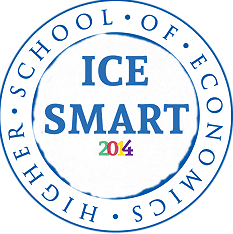 ICE-SMART 2014 Brochure.pdf

The Laboratory of Cultural Economics of the National Research University Higher School of Economics in St. Petersburg is announcing a call for papers for its Summer School themed 'Impacts of Cultural Events on Small and Medium-size Art-oriented Towns' (ICE-SMART 2014).
This intense one-week ICE-SMART 2014 Summer School (6 working days) will explore current issues of research on cultural events with a special focus on evaluation of cultural events' impacts. It will provide a unique opportunity for participants to get involved in the international cooperation and knowledge transfer. The Summer School is aimed at creating and supporting academic networks of young researchers with a professional interest in cultural events. The working language is English.
UPDATE: Dear all, please mind new dates of the Summer School ICE-SMART 2014 - from 7th till 13th July.
The schedule of the Summer School includes lectures, discussion seminars and sites visits. As an ICE-SMART participant you will also have an opportunity to discuss your current research project with colleagues and to develop it further. A collective monograph will be published and will include selected papers by ICE-SMART 2014 participants.
A preliminary programme of ICE-SMART 2014 is available here.

Special Professional Value
ICE-SMART 2014 has a special professional value for young researchers (Post-Graduate and Master's level students) whose professional interest is linked with impacts of cultural events.
English as Working Language
Applicants are expected to be proficient in English. Applicants whose first language is not English shall provide details of their proficiency in English (e.g. certificates or other details).
Fee
There is no registration fee. Organizers cover participants' accommodation and meals costs. Participants have to cover their travel and visa costs.